What are your areas of practice? What is your expertise?
My areas of practice are in Rangeland Ecology and Management including expertise in pyric herbivory, prescribed fire, landscape ecology, patch-burn grazing, and cultural landscapes.
Why did you choose the career in which you are currently?
I grew up on a cattle ranch first in the Porcupine Hills of Southern Alberta and then in the Rocky Mountains of the East Kootenays in Windermere. I have always lived a life that respects the land while being deeply rooted in an ethic of hard work and stewardship. My roots are in cattle ranching and my passion is in making the world a better place for all who inhabit it.
In 2006, I made a choice to join the public service as the Range Agrologist for the Fort Nelson Forest District because I wanted to enter into my professional career in science. I had just achieved a significant amount in my professional sports career and after much thought, I moved to the most northern post of the BC Ministry of Forests and Range for 6 years. I ventured forward into the private sector of consulting working for Keefer Ecological Service for a couple of years and have since been self-employed for almost a decade.
While working for the Provincial Government, I also started my Ph.D. in Natural Resource Ecology and Management and a few years later, successfully defended my thesis on the conservation of biodiversity through ecological processes and cultural landscapes in 2015. I own two companies: Shifting Mosaics Consulting, an ecological consulting company names after the theory of shifting mosaics which is the root of my work, and Northern Fire WoRx, a specialized fire company. I am an adjunct professor at the University of Alberta in the Wildfire Analytics Lab. I share this because I believe in being diversified and in today's global pandemic, living in a remote and rural community that is in an economic downturn, diversification is critical.
What do you do in a typical work day or week?
One of the best parts of my work is that every day is different and the only thing that's typical is to expect the unexpected! In the winter my team and I do wildlife work including aerial surveying for northern mountain caribou and mortality investigations along with supporting our oil and gas clients by building access to sites with our chainsaw crew to assisting manage the environmental, health, and safety programs of large projects.
In the spring we are found preparing for fire season, writing reports from the winter activities, doing bird surveys, and range use plans. Once the snow melts in the spring, we are typically outside until the snow flies and stays again in the following late fall. We conduct prescribed fires, teach fire schools, build fire programs, work with guide outfitters and ranchers on their range tenure management, do vegetation management services for our industrial clients, fight fire with fire as Ignition Specialists, and work for the BC Wildfire Service as a Type 3 Suppression Crew.
In the fall, we typically shift back to prescribed fire implementation and planning including pile burning and monitoring. Throughout the year, I am engaged in research through the University of Alberta and our graduate students along with students in other universities who I mentor. There is nothing typical about the work we do and it takes a real special breed of person to keep up with my team and I! I love my work, my team, and our clients and I am thankful for this amazing life I live which is, of course, filled with epic adventure of all scales through space and time.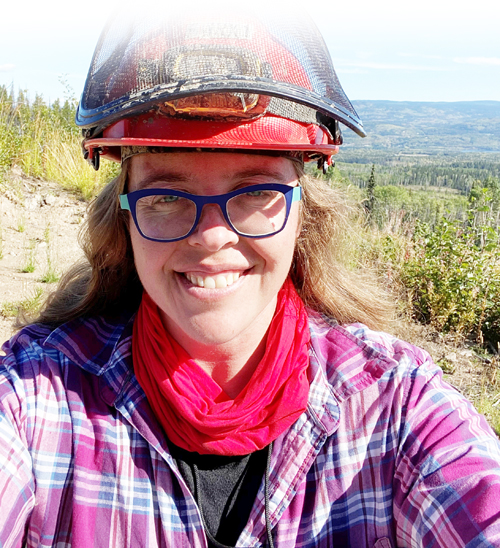 Describe a challenge encountered in your career, and how you resolved it.
A challenge that I have encountered several times in my career is when people tell me that I can not do something for various reasons. Whether it be that they don't think it's feasible or that they might feel threatened by the outcome of what I plan to do. It has happened too often for it to be reverse psychology – rather, I think that people do not allow their imagination to soar and to dream about what is possible rather than say no and focus on what is not possible. "Even the word impossible says I'm possible."  To this end, I have always worked hard, have been dedicated and determined to achieve success, and to not those people get me down.
Please share some favourite bonus "perks" and/or experiences from your career.
One of the greatest parts of my career is that I have the ability to share my work with the people I care the most about. My family is fully integrated into both of my companies and that is one of the most rewarding and amazing experiences for me to work especially with my mum. The places my family have gone with me range from high alpine mine site restoration hover exits to below -35C on the frozen muskeg to conduct mortality investigations on moose to everywhere in between. Equally rewarding for me is the team of professionals who contribute significantly to our work. This includes the guide outfitters, ranchers, pilots, knowledge holders, and all those who stand with us and keep us going. In addition to my family, my crew are also one of the best parts not only of my companies but also my life. After almost a decade of working together, we are a well-oiled machine that moves as one and for that, I am ever thankful to all of them for believing in me and the path we are taking.