What are your areas of practice? What is your expertise?
I am an entomologist with the BC Ministry of Agriculture and Food. My areas of practice include insect pest management, biological control, and extension.
Why did you choose the career you are currently in?
Growing up in a tropical country, I realized at an early age the damage insect pests can cause to crops. My dad was an agricultural extension officer, and my family had farms. I vividly remember the first invasion of variegated grasshoppers in Ghana and the extensive economic damage caused by these hoppers. The sad thing is these grasshoppers are one of the most beautifully colored grasshoppers I have ever seen.
To this day, grasshopper outbreaks make me feel helpless, and I have seen a few grasshopper outbreaks in British Columbia. I studied agriculture and specialized in entomology to help farmers deal with insect pest problems.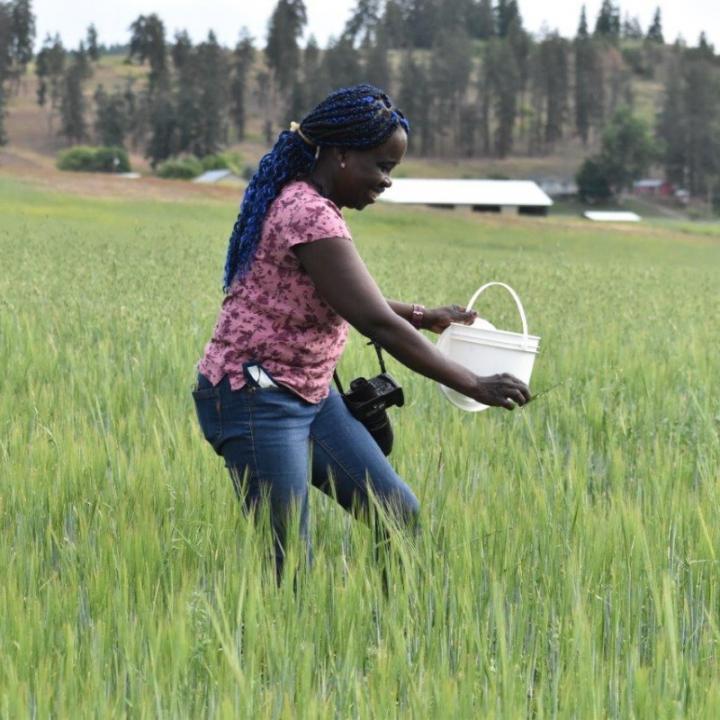 Why did you become a Registrant of BCIA?
I was not familiar with BCIA until I applied for my job with the province. BCIA membership is mandatory for a provincial entomologist.
What do you do in a typical work day or week?
What I love about my job is the variety. In the summer, I conduct surveys on new invasive insect pests in collaboration with other stakeholders, and with the assistance of summer students. Depending on the insect pest being surveyed, I write weekly monitoring reports and updates for growers. Summers can be very busy, especially when there are new insect pest outbreaks.
I love spending time outdoors and visiting farms to look at insects, providing correct identifications and management recommendations. Summer months are also busy with insect identifications for the general public and answering insect questions. As we wrap up surveys in the fall, I work on data summaries and reports for distribution to growers and other stakeholders. There is always a lot of catching up to do in the winter months – completion of final survey project reports, updating publications and factsheets on the Ministry of Agriculture website, and lots of industry and stakeholder meetings. Other activities include writing research proposals in collaboration with federal, industry, and other partners for funding surveillance projects, collaborating on research projects, giving presentations on insects to growers and other groups, and responding to media inquiries on insect pests.
Share some interesting "perks" and experiences of your job.
I have had the pleasure of working with some of the nicest people in the tree fruit and grape industries, as well as federal, provincial, and industry colleagues. I have partnered with federal, provincial, and industry partners in dealing with some of the most challenging insect pest outbreaks during the past fourteen years, and we have been able to find solutions for some of the insect pest issues.
I have had excellent mentors, and immense support from the tree fruit and grape industries, and that has helped me a lot in my career. I love training and working with summer students. They always bring in a lot of new energy and excitement, and I am proud to say I have had a few of them taking entomology courses after working with me, and there are a few that have become entomologists. I love talking to people, and I get to meet so many people from different walks of life, not to mention some very interesting conversations over the years.
I love my job, it is never boring, though it can be challenging at times. I am very happy when I have been able to work with stakeholders to find solutions for insect pest problems/outbreaks. In my spare time, I still look for insects on my hikes, and I write a blog, Bug Notebook, on what bugs I am seeing in the Okanagan during the season to help educate the public.