Kristen is an environmental scientist with Sage Environmental Consulting in Vernon, BC, who specializes in Contaminated Sites investigation and remediation. Kristen has been a volunteer member of the BCIA Credentials Committee since 2021, assisting in the educational review of prospective applicants to BCIA. Being a Registrant of BCIA has provided Kristen with a supportive network of professionals within her area of expertise, as well as a network of professionals to call on outside her area of practice.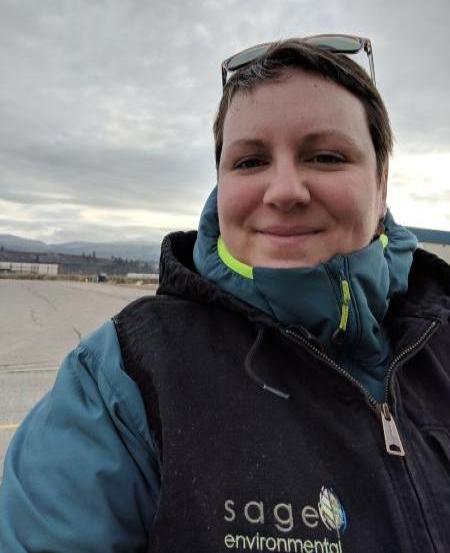 What are your areas of practice? What is your expertise?
I practice within the area of contaminated land assessment, remediation, and decommissioning, and my expertise is in the investigation and remediation of contaminated sites.
Why did you choose the career you are currently in?
I have a background in geology and hydrogeology, and it wasn't until I started working in environmental consulting that I was drawn to contaminated sites work. I love the mix of historical and environmental research, the puzzle of understanding a site, and working in the field.
Why did you become a member of BCIA?
I was encouraged to join BCIA by a couple of my colleagues and appreciated the inclusivity of the organization.
 What do you do in a typical work day or week?
My typical day can vary between conducting research, writing reports, and fieldwork. In the field, I could be collecting soil samples, supervising drilling and installation of monitoring wells, sampling groundwater or surface water, or supervising an excavation of contaminated material. I like that my day-to-day varies, and each site is a new puzzle to solve.
Share some interesting "perks" and experiences of your job.
A perk of my job is getting to work with colleagues who share the same enthusiasm and passion for their work. I have been able to travel all over BC, and am fortunate to have met amazing people along the way. I don't usually work on the most glamourous properties, but I like to think I am making a difference in protecting the environment for future generations.