Location
New Life Church, 35270 Delair Rd, Abbotsford, BC, with the option to attend virtually
---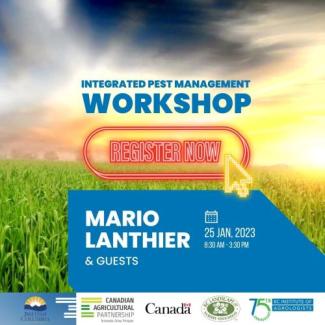 Growers! Register today for the BCLNA's 2023 Integrated Pest Management Workshop Workshop with Mario Lanthier & Guests!
The BC Landscape and Nursery Association (BCLNA) was formed in 1953 and today is a vibrant association with chapters in the Lower Mainland, the Interior, and Vancouver Island. The BCLNA offers member companies leadership support and training, industry information, and services toward the development of more knowledgeable and responsible horticulture practices. Included in its mandate is also business development and issues management for BC's green industry.
The Integrated Pest Management (IPM) workshop has two main goals: to see what is happening in our climate and how it impacts pest management and tree selection and to address rodent pest management specifically.
A hot lunch is included for in-person attendees!
When: Wednesday, January 25, 2023 | 8:30 AM – 3:30 PM
Where: New Life Church, 35270 Delair Rd, Abbotsford, BC, V3G 2E2
Registration is extended until noon on January 20, 2023.
Non-BCLNA Members: $100.00
BCLNA Members: $75.00
Online Registration (Up to 100 Participants): $10.00
*For the details of the event and the agenda, please view the workshop PDF Agenda.
Morning Session: Climate Change and Impact on Nursery Production
8:30 AM: Doors open for registration
8:45 AM: Introduction by Mario Lanthier
8:50 AM: Dr. Elizaveta Malinina, Climate change and its influence on the 2021 BC floods
9:20 AM: Dr. Andrew Hirons, Using sap flow to evaluate waterlogging tolerance in temperate trees. (Virtual)
10:00 AM: Break & Networking
10:30 AM: Mario Lanthier, Extreme weather and impact on pest problems
11:15 AM: Edward Nichol, Metro Vancouver Tree Species Selection Database
11:45 AM: Table discussion / online breakout groups
12:00 PM to 1:00 PM: Lunch Break (A hot meal is provided for in-person attendees)
Afternoon Session: Rodents and Management
12:00 PM to 1:00 PM: Lunch Break (A hot meal is provided for in-person attendees)
1:00 PM: Emily Carmichael: Got rodents? Understanding the new rules for second-generation anticoagulant rodenticides
1:45 PM:  Shaun Dhaliwal, Understanding rodenticide label statements.
2:15 PM: Break
2:45 PM: Sofi Hindmarch, Non-chemical rodent control on farmland
3:10 PM: Wrap-up