Mentor of the Year Award:
The Mentor of the Year award is to recognize and pay tribute to a Registrant of the BCIA who espouses the values of being a BCIA mentor. A mentor is a key individual in the early stages of professionalism of a new articling Registrant. A mentor guides the new articling Registrant through the Articling Program; introduces them to the institute at both the Branch and provincial levels; sets an example as a professional; introduces them to professional networks; assists in identifying and undertaking professional development activities that may prove useful to the Registrant in their area(s) of practice, and provides the final recommendation for full professional status.  
Geoff Hughes-Games, PAg.
 "Geoff goes above and beyond when it comes to providing support and education to articling agrologists. He's always available and accommodating. He consistently provides resources that facilitate learning. He is kind, funny, and a pleasure to work with. He provides a valuable wealth of knowledge."
Submitted by Amy Sigsworth, AAg, and Trish Hanuszak, AAg
Geoff is a Professional Agrologist with over 35 years of experience in agricultural soil management, including soil classification, land use, and water management. His training and education focused on irrigation, soils, agri-environmental risk assessment, and adult education. Before beginning his 29-year career with the BC Government, he worked in the public and private sectors on activities ranging from nutrient research in tree fruits to marketing of crop protection and fertilizer products. Geoff began work with the BC Ministry of Agriculture as a technician in soil management and drainage projects in the Lower Fraser Valley. As Provincial Soil Specialist, he assisted with the development of legislation and policy for organic residual management from agricultural and non-agricultural sources. he was instrumental in the development and management of environmental programs, including the BC Environmental Farm Plan and Beneficial Management Practices Programs. Geoff has training and experience in emergency response and recovery efforts, particularly in relation to flooding, animal disease, spill, and debris flow events.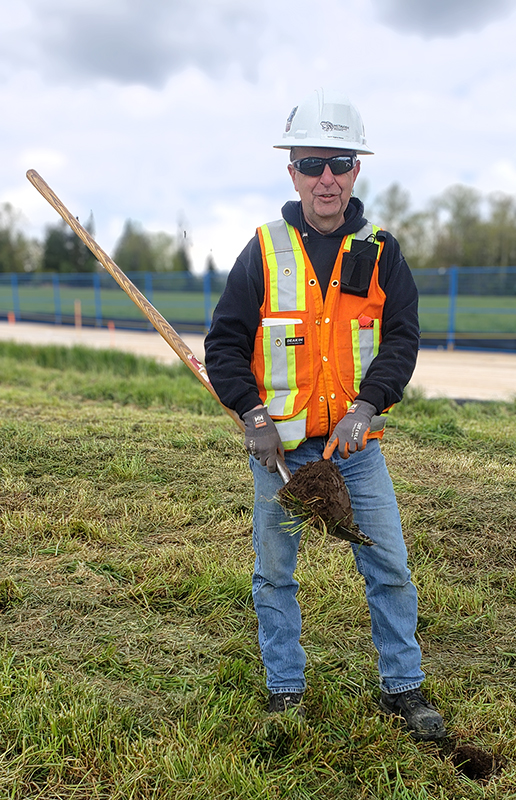 Acclamations:
"Geoff is an outstanding mentor, a humble teacher, and an inspiration to what dedication to a craft can be. I feel extremely fortunate to have him as a mentor. Geoff is a tremendous asset to the profession of agrology, to the soil science community, and the BCIA."  ~Trish Hanuszak, AAg
"Geoff is an extremely valuable informational resource. He is an expert soil specialist with over 40 years of experience. He imparts important local soil and hydrology knowledge which in turn assists in maintaining or improving soil quality in the Lower Mainland and beyond. I have come to know Geoff as a friend; his easy-going demeanor, generosity, humor, dedication to the profession of agrology, and impressive expertise make him a high-quality mentor that I am extremely grateful to have, both professionally and personally. I cannot think of anyone more deserving of such an award." ~Amy Sigsworth, AAg
"Geoff has taken it on as a personal mission to work closely with all of our junior and intermediate Agrologists and AAgs. Over the last year, he has imparted an incredible amount of knowledge on soils, hydrology, geomorphology, and farming operations to these young agrologists. I am always amazed at his patience, good humor, and ability to impart complicated knowledge in simple-to-understand terms. Every one of our agrologists and AAgs has commented on how lucky and privileged they are to have Geoff as a mentor." ~Bruce McTavish, P.Ag., President and Senior Agrologist, McTavish Resource & Management Consultants Ltd
The award was virtually presented at the 75th BCIA AGM on June 1, 2022.